There are some amazing Arabic cat names because one word describes a lot of things. You will surely find a name with a deep meaning in this list.
Not everybody likes the usual cat names, sometimes people want a unique name that is so special and meaningful that noone else picked before. These Arabic cat names have deep meanings due to the deeply rooted verbal culture in the Arab peninsula. Did you know that many names in Christianity and Islam share the same roots including Christmas names?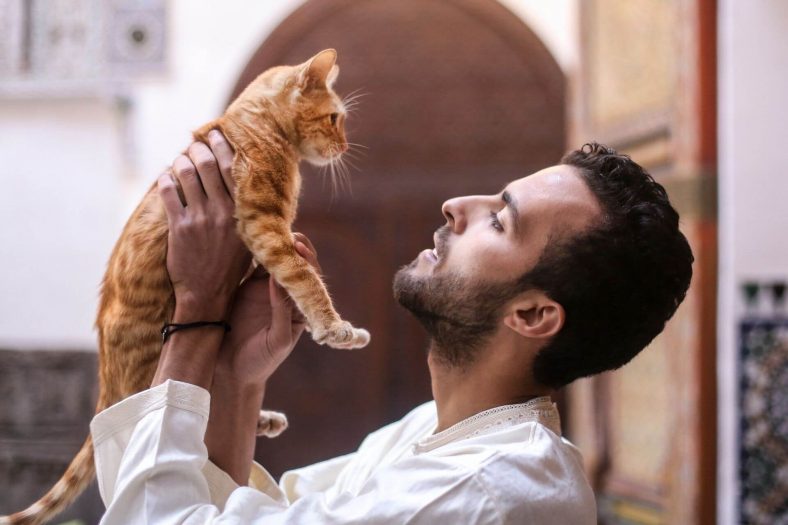 Actually, the meanings of some of the Islamic names for cat can only be explained with a full sentence. Also there are several stories I heard from my Muslim friends about the Propher Muhammad and his love for cats which made the affection for cats a part of the faith. It is no surprise that there are so many amazing cat names in Islam.
Now before we head on to our list of Arabic cat names, I want to provide you a few tips to make it easier to pick a name. Since there are so many great names that can be perfect matches for your kitty, I strongly recommend to note the names you like as you read the list. This way you will prepare a list of arabic names for cats that consists of only the names you like.
After you finish reading the list, go back to the list that you prepared and pick your favorite name for your new friend. This makes it a lot easier to name the little rascal.
Also if there are multiple people involved in naming the cat, prepare your lists separately and compare them after everybody finishes reading. This way you will be able to quickly pick a name that is on all lists.
For your convenience I also divided our list Arabic cat names into 3 categories:
Arabic Names For Female Cats
Arabic Names For Male Cats
Gender-Neutral Arabic Cat Names
Now, let's start and find your kitty a name that is just perfect for it.
Arabic Names For Female Cats
Most names here in this list may sound like Muslim cat names but actually the names go way back even before Islamic era began. The name for a female cat in Arabic sounds amazing no matter you are Muslim or not. Also, Arabic names for persian cats are great matches.
A'ishah: Life, vivaciousness
Afifi: Chaste or modest
Malak: Angel
Fatinah: Captivating, alluring, intelligent
Ojala: Light, sunshine
Habiba: Beloved
Eshmaal: Bunch of red roses
Eisa: God is salvation
Yelda: Dark night
Ramsha: Beautiful, face like moon
Rasheeka: A ray of light
Sabirah: Of great patience
Bakht: Luck
Rabab: White cloud
Dabab: Morning mist
Rowa: Lovely vision
Alzena: Woman
Amal: Hope
Taiba: One who refrains from evil-doings, repentant
Lulua: Pearl
Minaz: Sweet, wish, desire, love of God
Saina: Princess,reflection of Sai
Kedar: Powerful
Afreen: Friendly
Nour: The divine light
Kaarina: Chaste, pure
Faeema: Strong Women, self sacrifice
Loza: Almond
Zurah: Venus
Saba: East wind, breeze
Aneeza: Happiness and green valleys
Bassira: Wise
Dunya: Worldly life
Naailah: Earner, winner
Inshirah: "When the heart becomes open", relief, cheer
Amra: Princess
Enam: Gift
Bibi: Lady
Mariam: Drop of the sea, bitter, or beloved, Mary
Ghazale: Gazelle
Asfiya: Pure ones, just ones, holy ones
Juveria: Damask rose
Nasmat: A breath of life
Azucena: Lily
Najya: Victorious
Najma: Star
Sadaf: Sea shell
Kalila: Beloved; sweetheart
Aala: Blessing
Nafasat: Purity, refinement
Almira: Princess
Zurie: Beautiful, white, light
Chanda: Bright, moonlight
Rafa: Happiness, prosperity
Ada: Grace, Expression
Haleema: Gentle or mild-mannered
Fadila: Virtuous, outstanding, superior
Asfoureh: Bird
Leem: Peace
Kala: Art, miracle
Elma: Apple
Iklil: Crown, garland, wreath
Gulbano: Princess of roses
Afra: White, colour of Earth
Jala: Clarity, elucidation
Shauntia: Dream
Nada: Generosity, dew
Tamanna: Desire,wish
Bibiana: Righteous, obedient
Samira: Night-companion, entertaining companion
Keyah: In good health
Anjum: Star
Ihsana: Favour
Anisa: Pleasant companion
Hamama: Dove, pigeon
Sally: Princess
Najia: Saved, liberated
Anbar: Perfume, ambergris
Luma: Sunset
Lina: Small, young palm tree
Layla: Night
Ezzah: A person who gives the honour
Alvan: Sublime
Adila: Righteous, fair
Heyam: One of the many levels or degrees of love
Amira: High born girl
Minhat: Gift
Nazifa: Pure, Clean, Neat
Tala: Little palm tree
Malika: Angel
Asile: Noble
Vardah: Rose
Nabila: Noble, excellent
Varisha: Lightning
Sabah: Morning, dawn
Banan: Delicate, finger tips
Nadirah: Precious, rare
Inas: Friendliness, cordiality, sociability
Talitha: Young girl
Zada: Prosperous, fortunate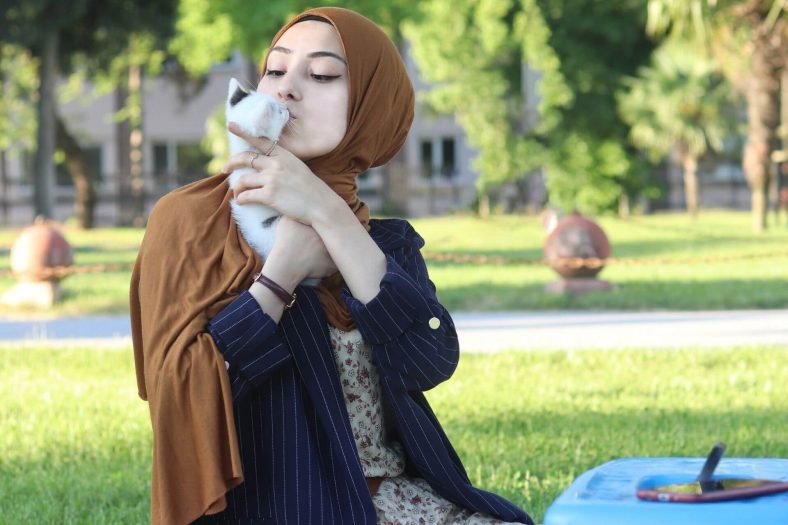 Ghaydaa: Gentle and delicate
Karima: Generous
Aya: Wonderful, amazing, miracle
Kayla: Crown,laurel,wise child
Sabburah: Very patient, enduring
Zaiton: Olive
Sabina: Small sword
Fayza: Victorious
Ijlal: Honor, respect
Adara: Virgin; beauty; noble
Ayat: The verses of the Quran
Dua: Prayer to God
Arub: Loving to her husband
Akide: Firm, certain
Imani: Belief or faith
Roya: Vision or dream
Zulima: Peace, tranquility
Zayna: Beauty, grace
Faryal: Angel
Guadalupe: River of the wolf, wolf valley
Rima: White antelope
Talia: Girl/woman who recites the Quran often
Bayda: A desert without water and grass
Tohfa: Present, gift
Erina: Beautiful lady
Taalia: Rising star
Lazize: Sweet, pleasant
Sana: Brilliance, radiance
Romaisa: Bunch of flowers
Hadiya: Guide to righteousness
Sagirah: Little one
Parvina: Shining star, fairy girl
Lujain: Silver
Hana: Bliss
Jemimah: Little dove
Tamarind: A tree and spice name
Amina: Honest, faithful
Saadat: Happiness
Nyla: Winner, one who achieves
Ghitbah: Narrator of hadith
Khalisa: Pure, true, clear
Yara: Little butterfly
Ameera: Princess
Rana: Eye-catching, glittering, mesmerising
Erum: Heaven
Jemima: Little dove
Adira: Strong
Fitnat: Seduce, tempt, lure
Rabeea: Garden
Hira: Powerful, diamond
Bahira: Dazzling, brilliant
Ayisha: Life, vivaciousness
Huda: Right guidance
Hadia: Leader, guide
Maysa: Graceful
Aamal: Hope, aspiration, expectation
Finjan: A small cup
Keya: A monsoon flower
Ghaniya: Rich, wealthy, prosperous
Zahra: Bright, shining
Ujala: Light of the universe
Kanza: Hidden treasure
Farah: Happiness, joy, gladness
Rahila: One who travels
Kinza: Hidden treasure
Kas: Glass
Widad: Love
Negma: Star
Sahara: Desert
Hasna: Beauty
Cala: Castle,fortress
Sameh: Forgiver
Zena: Moon, fame, news
Amani: Wish
Soumra: Brownish color
Badra: Full moon
Qaraja: Living under the power of Allah
Rahimat: Grace
Aida: Visitor of the sick
Na'eemah: Joyful
Zayda: Fortunate, prosperous
Zaara: Blossoming flower
Idrak: To comprehend, to understand
Nahla: First sip of water
Muneeza: Flawless
Janan: Heart, soul
Ghaziya: Successful woman
Aden: One who happily resides somewhere for eternity
Bushra: Good news, omen
Mayyadah: To walk with a proud swinging gait
Sabuhi: Morning star
Hadil: The voice of a dove
Zaria: Princess
Nazli: Delıcate, capricious
Yasmeena: Jasmine flower
Iba: Exalted, sublime and superb
Banafsaj: Violet flower (Some sources say "Violent" but that is not true at all!)
Hawa: Arabic form of Eve
A'idah: Visiting, returning; reward
Minsha: Independent, determined
Lamhat: A glance
Arzu: Hope, wish, desire
Rafa: Happiness, prosperity
Khulud: Immortality
Azia: The rising sun
Arabic Names For Male Cats
Islamic names for cats are a lot more in Arabic male cat names because there are so many great historical male figures in history that you just can not ignore them. Actually, I don't know what makes a Muslim cat name but Muslim names for cat friends sound really good.
Zahir: Apparent, evident
Naji: Survivor, saved person
Ehan: full moon
Fazli: Kind, bountiful, graceful, virtuous
Yameen: Oath
Mahmud: The praised one
Zair: Pilgrim, visitor, guest
Fawwaz: Winner
Daud: Beloved, dear friend, equivalent of David
Absi: To frown
Azraf: Intelligent, eloquent, elegant
Jasim: One who is of good health
Sadiq: Friend
Khamis: Thursday
Zoolal: Clear, pure, cool water
Akif: Focused, attached, intent, devoted
Hilmi: Gentle, calm
Ruhi: Spiritual
Hasan: Handsome
Bahij: Splendid, handsome
Raad: Model, leader, pioneer
Damurah: Fire, sparkle of light
Azhaire: Luminous
Faiz: Successful and victorious
Jamil: Handsome, good-looking
Negm: Star
Ghaffar: An attributive name of Allah, most forgiving, merciful
Latif: Kind, gentle
Hafiz: The one who remembers
Yazdan: Merciful, kind
Labib: Understanding, sensible, intelligent
Jabir: Comforter
Kutaiba: Sensible, intelligent
Laheeb: A fiery man
Nazeh: Virtuous, honest
Sihr: Magic
Ejaz: Miracle
Zaki: Intelligent, pure
Sayad: An accomplished hunter
Fazlallah: God's bounty, God's excellence
Rafi: Exalter, glorifier, raiser
Anwar: Brighter
Abbas: Lion
Dhiya: Splendour, light
Amin: Trustworthy
Rafiki: Friend
Tarik: Morning star
Nimatullah: Blessing of Allah
Gadiel: God is my wealth
Yakout: Ruby
Bourkan: Volcano
Numair: Panther
Izz: Glory, honour, prestige
Kaia: Chaste, stability
Qudamah: Courage
Rabi: Breeze
Rafik: Intimate friend, companion
Bari: From Abd-al-Bari (The servant of the creator)
Khayri: Generous
Halim: Patient
Isa: Jesus
Chadli: City of Chadlia
Shareek: Companion, partner
Sami: One who hears
Ajmal: Most beautiful
Ekram: Honour
Ghulam: Servant, assistant
Salman: Obedient, disciplined, humble
Tahawwur: Temerity, rashness, intrepidity
Jarrah: Vessel
Mansur: Aided by god, victorious
Abba: Father
Zarrar: Brave, courageous, a great muslim warrior
Ghaith: Rain
Maher: Skillful
Talal: Nice, admirable
Tahir: Pure
Akeem: Intelligent, judicious, wise
Tali: Rising, ascending
Zakariyya: God has remembered
Ali: High, elevated or champion
Adnan: Settler
Aladdin: Nobility of faith
Bakhtawar: Fortunate, lucky
Ziad: Abundance, growth
Jahm: Sullen
Nazeem: Arranger, adjuster, organiser
Raamis: The good looking one
Bahaa: Cost, price
Taj: Crown
Adham: Black
Zayan: Graceful, Beautiful
Zaim: Leader, chief
Lamaan: Shine
Fatin: Intelligent, clever
Bruhier: Name of a Sultan
Gamil: Beautiful
Hashim: Crusher
Fikri: Thoughtful
Jafar: Small stream, creek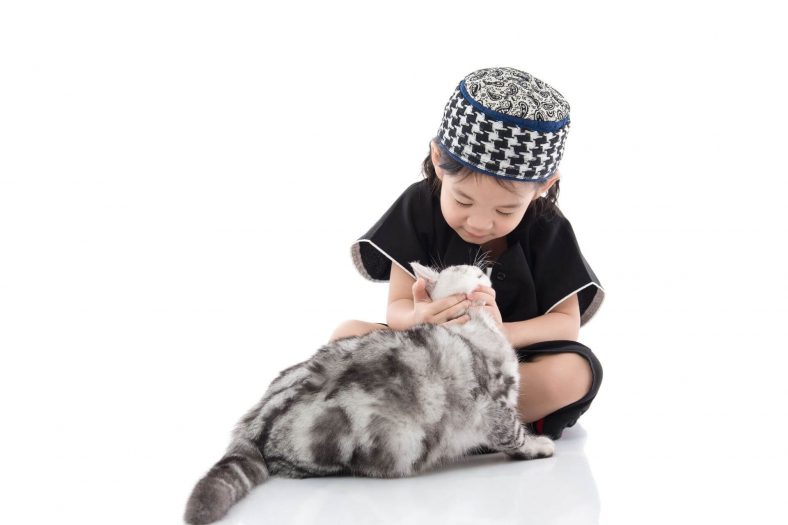 Selim: Safe, undamaged
Aziz: Powerful, respected, beloved
Wafiq: Successful
Eblis: The principal evil spirit or devil
Omar: Flourishing, long lived
Abdullah: Servant of Allah
Fairuz: Turquoise, precious stone
Hamza: Lion, strong, steadfast
Bahir: Brilliant, lucid, renowned
Barraq: Shining
Sabir: Patient, tolerant
Ektibar: Experiment
Kaashif: Uncoverer, pioneer, discoverer
Fassed: Spoiled, bad
Jamal: Beauty, grace
Antar: The name of the hero in a story of chivalry
Qadir: Almighty
Bilel: Full moon, water, refreshing
Badawi: Bedouin
Zubayr: Strong, brave
Haroun: Form of Prophet Aaron
Nahyan: Courageous, brave
Fakir: "Poor", refers to man's spiritual need for God
Salim: Safe, secure
Karif: Born in Autumn
Kahlil: Friend
Najair: A small or tiny star
Izaz: Honour, esteem, regard
Nabil: Noble
Riyad: Gardens
Habib: Beloved, friend
Guljul: Little bell
Tawseef: Praise
Shams: Sun
Rald: Famous leader
Ikram: Honor, hospitality, generosity
Badr: Full moon on its fourteenth night
Faris: Knight, cavalier
Atiq: Old or ancient
Darwish: Status name for a Sufi holy man
Idris: Studious, smart, or to learn
Abu Bakr: Father of a young camel
Maneet: One who wins hearts
Mukhtar: Chosen
Basir: Wise
Nashat: Liveliness, vigour, cheerfulness
Matin: Strong, powerful
Emir: Prince
Baki: Eternal
Ferran: Baker
Naadir: Scarce, precious
Hud: Those who ask forgiveness
Tawil: Tall, long
Nasri: Winner of victory after victory
Kazem: Tolerant
Zafir: Victorious
Owais: Little wolf, a companion of the Prophet
Fathi: Victorious, triumphant
Akmal: Complete, perfect
Mamdouh: One who is commended
Batal: Brave, hero
Eyab: To return
Surur: Joy, pleasure
Nasser: Victorious, protector, triumphant
Abdalrahman: Servant of the merciful one
Zaigham: Lion
Amadi: Much praised. One of many names of the prophet Muhammad
Boulboul: Nightingale
Raahil: Path guider
Asil: Of noble decent
Mustafa: One of the names of the Prophet Muhammad, chosen, selected, appointed
Moubarak: Who or which is blessed
Dabir: Teacher
Imran: Prosperity, host
Malik: Owner
Husain: Handsome
Azzam: Very determined
Kaliq: Creative
Haji: Someone who has completed the Hajj to Mecca
Loay: Adversity, hardship
Taimur: Made of iron, Strong
Kadar: Strong, powerful
Mahfouz: Kept or protected
Kardal: Mustard seed
Dinar: Shining gold coin
Fahd: Panther
Yacoub: Form of Jacob
Nusrat: Victory
Gadi: My wealth
Sadeem: Haze, mist
Rasheed: Well-guided, wise
Zaroon: Visitor, traveller
Ubaid: Servant (domestic)
Borak: The lightning
Anis: Genial or close friend
Iyad: Support, reinforcement, pigeon
Qais: Lover, desperately in love, mad in love
Wasim: Good looking, handsome
Dastgir: "Holder of the hand", helper
Wathik: Reliable
Zayd: Growth, abundance
Laith: Lion
Ahmar: Red Coloured
Qaseem: Distributor, divider
Rakkas: Dancer
Asad: Lion
Hafs: Collecting, gathering
Yavin: Understanding
Bishr: Joy
Daif: Weak
Gender-Neutral Arabic Cat Names
There are not many gender-neutral Islamic cat names or cat Muslim names that I could find in Arabic. Maybe I could have found more if I spoke Arabic but the low number does not prevent these Arabic cat names from greatness.
Rayan: Luxuriant, plentiful or "Heaven's gate"
Abeer: Fragrance, aroma, perfume
Rida: Approval, perfect contentment with God's will or decree
Nawwar: Blossom, flower
Sultan: Ruler, king or queen
Mishmish: Apricot
Isra: Night journey
Sukkar: Sugar
Ara: Embellishing, adorning
Adab: Good manners, decency
Akmal: Complete, perfect
Diya: Light, shining
Layl: Night
Lawz: Almond
Mashaal: Light
Shoukran: Gratitude
Nahar: Daytime
Samar: Evening conversations
Fajr: Dawn, morning prayer
Jawhar: Jewel