You have a new kitty roommate but you don't know what to call it. You are right to prefer the cat names starting with G because there are some great names here.
Cat names starting with G include some amazing and unique cat names. However, you need to make sure to follow some tips when naming your new friend. First of all, all cats are unique because they all have different personalities. Breed's character traits don't always apply, both mother's and father's characters play a huge role in the kitten's personality. So, observe your kitty for a few days before giving it the name that suits or contradicts its character for some fun.
Another common method when naming a cat is taking physical traits into consideration such as color or size. For example; if you have a tiny or huge breed of cat you may choose to name it "Gargantua". Or if you have a gray cat "Gray" itself is a cute cat name. By the way, if you have a gray tabby cat, you may want to check here for some really good name suggestions exclusively picked for gray tabby cats.
Or how about a famous person or a fictional character? There are some great names among those, too. You can find these names categorized under male and female names sections. We also added a unisex cat name section for those who don't want a specific gender name.
Another tip I can give you is noting the names you like and then choosing among them because there will possible be more than one name you will like. If you are not choosing the name alone, definitely note the names you like individually and see if there is any common name on your lists.
Male Cat Names Starting With G
There are so many options to choose from the cat names that start with G. Male names are generally strong cat names as we tend to think male cats are tougher. In my not-so-scientific opinion based on my humble observations, female cats are a lot more badass but this doesn't mean male cats can't be tough, too.
Grimm
Gobble
Gerald
Garrick
Gareth
Goofy
Gustav
Gomez
Giovanni
Goblin
Gutsy
Grey
Gunner
Gilligan
Gordy
Griswald
Gotham
General
Gonzo
Gio
Gangsta
Gopher
Gigolo
Grunt
Gucci
Goober
Garvin
Georgie
Guinness
Gumbo
Geppetto
Gulliver
Goethe
Gideon
Goose
Gallagher
Golly
Google
Gunnar
Gibson
Gimp
Groucho
Gussy
Gargantua
Garbo
Greyson
Gizmo
Gump
Garbanzo
Gus
Grady
Gollum
Garfunkel
Gatsby
Granger
Gumby
Gavin
George
Geisha
Grant
Gaston
Gandalf
Gargamel
Gato
Geronimo
Gandhi
Gabe
Goliath
Gary
Godzilla
Guy
Grendel
Greg
Galileo
Galahad
Garou
Gaius
Gorey
Grayson
Grandpaw
Gringo
Garrett
Gomer
Garcia
Graham
Gussie
Gambler
Gremlin
Gusto
Gargoyle
Genghis
Gimli
Ginger
Gunter
Griffin
Gibbs
Gorby
Gordon
Gaudi
Gabriel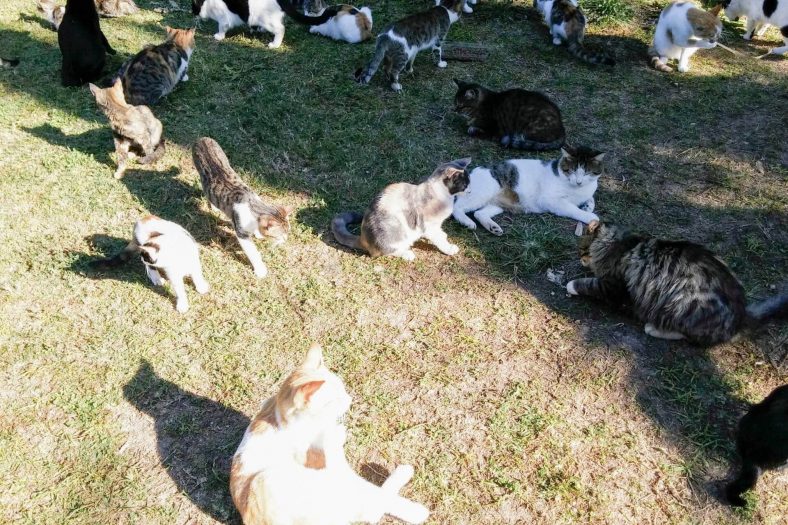 Gregory
Garfunkle
Gunther
Gertrude
Ghost
Gator
Grunge
Gray
Groot
Gilbert
Gambit
Garth
Guru
Gyro
Garfield
Gramps
Female Cat Names Starting With G
Female names are generally made up of cute cat names that start with G but in my opinion that's a discriminatory perspective so I mixed cute names with badass cat names in both male and female categories. I am sure you can find a great name in this list for your little friend.
Goji
Gwyneth
Gumdrop
Glitch
Glimmer
Godiva
Garnet
Ginger
Ghost
Georgia
Genesis
Glitter
Gloria
Gertrude
Gabby
Giggles
Gadget
Glenn
Goldilocks
Gucci
Guinevere
Gutsy
Gamora
Genie
Gingersnap
Grey
Gretel
Gretchen
Gumball
Granola
Gato
Gilmore
Gladys
Galadriel
Gwen
Gem
Geranium
Gilly
Goddess
Gypsy
Giselle
Guava
Griselda
Gremlin
Gorgeous
Gray
Georgina
Geraldine
Gin
Gigi
Gabrielle
Gatita
Granger
Grandma
Genova
Gardenia
Goose
Gilda
Gemini
Gianna
Geneva
Grace
Glow
Gouda
Gazelle
Gwendolyn
Gemma
Guadalupe
Gaia
Gizmo
Genevieve
Geisha
Gabriela
Ginny
Glenda
Gertie
Goldie
Gina
Gala
Greta
Unisex Cat Names Starting With G
You don't have to give your kitty a gender specific name. Food or mythological names, etc. are under this category. Some of the greatest cat names starting with G are under this category so don't name your feline friend without taking a look at this list.
Gingham
Grubber
Ginseng
General
Gamma
Goat
Gingko
Giggles
Gatekeeper
Gumdrop
Gaia
Grapple
Gouda
Goodie
Grapes
Grouchy
Ginger
Gimp
Goofus
Geek
Gumbo
Gin
Given
Guinness
Goodfella
Granite
Genie
Genius
Gato
Ghost
Glee
Greco
Gecko
Glacial
Galaxy
Gonzo
Giddy
Goldie
Gasket
Griffin
Gorilla
Gazer
Grunge
Gorgeous
Gemini
Gibber
Gobbles
Glow
Growl
Gummy Bear
Gadget
Goose
Greedy
Gipsy
Gay
Goblin
Ghostbuster
Gizmo
Gopher
Grey
Geezer
Goodness
Gumball
Gentile
Garlic
Goulash
Gator
Gray
Gloves
Graffiti
Genesis
Giga Bites
Gyro
Grizzly
Gage