Choosing a name for the new member of the household can be difficult and tense. For such occasions we have a very good list of gray tabby cat names for you.
As a father of a grey tabby cat – or gray tabby cat – I picked the names one by one and listed them as female, male, unisex and of course, cute grey tabby cat names.
My recommendation is read the cat name out loud and if it sounds good to your ear note it down. In the end check all the good names you noted and try to pick one from the list you prepared.
Female Grey Tabby Cat Names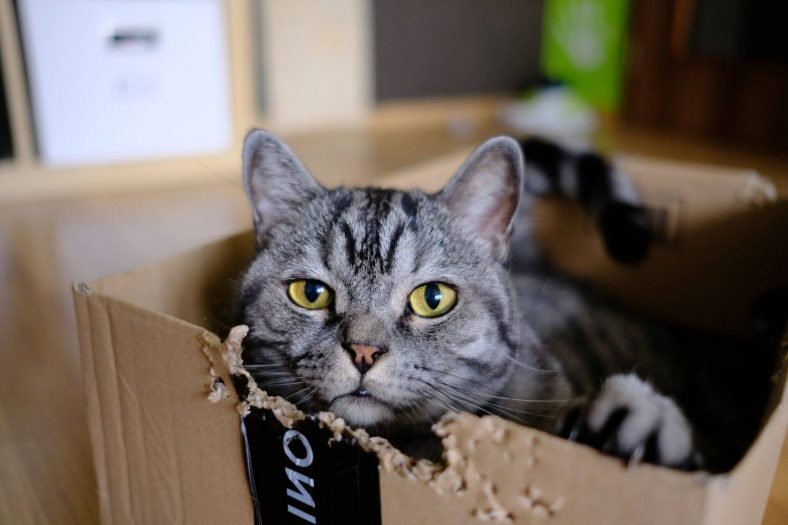 Female cats have a special aura around them. They are kind of more elegant and they even walk differently. I think their names should be elegant and special as they are special girl grey tabby cats.
Barbie
Joy
Pebbles
Silky
Lux
Starry
Diamond
Boo
London
Sapphire
Miku (Japanese for "beautiful sky")
Luna
Smurfette
Olive
Dotty
Catniss
Crystal
Poppy
Iris
Tinkerbell
Jewel
Mystic
Zara
Petals
Sparkle
Meeko
Zina
Cinderella
Envy
Blossom
Cheyenne
Onyx
Honey
Mona monkey
Domina
Gracie
Ember
Misty
Tabs
Coco
Princess
Duchess
Mab (the fairy queen)
Opal
Yuki ("snow storm")
Queenie
Maleficent
Zelda
Noelani (Hawaiian for "heavenly mist")
Missy
Aria
Lady Grey
Muffin
Artemis
Angel
Lilac
Bastet (an Egyptian cat goddess)
Nebula
Orchid
Sassy
Lady
Paisley
Lola
River
Venus
Foxy
Sasha (great for a Russian Blue)
Gypsy
Lavender
Yin
Male Grey Tabby Cat Names
Some people believe that male cats are more affectionate than the female ones as the females have motherly instincts and take more time to trust others. In my experience it all comes down to the individual characters. If you want to name your cat according to its character, I think the list below can give you some really good ideas for boy grey cat names.
Granite
Earl Grey
Smurf
Thor
Spock
Gandalf
Blaze
Elvis
Centurion
Roman
Smoke
Jolt
Otter
Mercury (feel free to add "Freddie" for superstar power)
Scar
Buckwheat
Ninja
Silver Fox
Greyson
Shaggy
Griffin
Captain
Hercules
Hunter
Dorian (as in Dorian Gray)
Oscar
Baloo
Merlin
Smokey
Bullseye
Leo
Casper
Harley
Christian Grey
Albus (for Albus Dumbledore)
Rocket
Dash
Blink
Wolf
Prince
Chrome
Hoover
Cash
Lucifer
Domino
Slim Shady
Tongs
Bandit
Greyhound
Copper
Drac
Nimbus
Blade
Nitro
Felix
Titan
Bruiser
Mars
Slate
Dart
Marbles
Tao
Bongo
Chase
Badger
Tiger
Guthrie (Scottish for "windy spot")
Zephyr
Hurricane
Atlas
Unisex Grey Tabby Cat Names
You cat can be male or female but it doesn't matter when it comes down to naming it. There are plenty of unisex names for grey tabby cats. Have look at our list and see if you find anything that you like.
Pepper
Platinum
Lemur
Lemming
Mushroom
Windy
Anchor
Leopard
Jinx
Galaxy
Storm
Bluebell
Sage
Jelly
Chevron
Mango
Neptune
Fire
Magic
Graphite
Stripes
Disco
Echo
Socks
Mouse
Opossum
Sardine
Tablet
Karma
Moon
Dorito
Patchwork
Ash
Pigeon
Anchovy
Shimmer
Mac
Serpentine
Swirly
Zigzag
Rainbow
Coconut
Supernova
Oyster
Inky
Winter
Rusty
Pinstripe
Caviar
Poupon
Peanut
Oreo
Bumblebee
Speckles
Coal
Hershey
Hodgepodge
Goose
Thunder
Furball
Pocus
Carbon
Weasel
Silver
Hyena
Lucky
Raven
Bubbles
Asteroid
Clay
Jazz
Gingham
Skunk
Prism
Rain
Zebra
Ziggy
Snickers
Smudge
Cosmo
Hog badger
Phoenix
Polecat
Blue
Curry
Shadow
Noodles
Dusty
Breton
Shrew
Cirrus
Tartan
Shady
Breezy
Mongoose
Comet
Midnight
Patches
Spot
Puff
Cute Grey Tabby Cat Names
If you are preparing a list of cat names, cute cat names is a must and always will be. I mean, why not? Cats are the cutest pets ever so it is only appropriate to give them cute names. I am sure that there are some names in this list that suits your cute little devil just right.
Beans
Maple
Simba
Picasso
Duke
Jellybean
Faith
Nibbles
Checkers
Buttercup
Milo
Waffles
Haribo
Munchkin
Silverton
Chipmunk
Marshmallow
Taffy
Gumdrop
Nutmeg
Romeo
Cutiepie
Daisy
Bunches
Loki
Bunny
Squiggle
Tinsel
Lullaby
Flower
Cheetah
Pickles
Cookie
Jupiter
Noddy
Petal
Buddy
Hugs
Mercury
Nugget
Fluffy
Cuddles
Marble
Disco
Dimples
I sincerely hope that we contributed to finding the perfect name for your cat or kitten. But to be honest, whatever you name your cat, it will always be your cute little son or daughter.
Have a long and happy life with the newest member of your family!