Cats themselves are weapons and should be handled responsibly otherwise nonlethal injuries are inevitable. Therefore, weapon names for cats are just perfect.
Weapon names for cats are appropriate for a few reasons. Cats have been in battlefields all along the history. Ancient Egyptians even lost a war because of cats when Persians decided to carry cats in front of them during the siege of Pelusium thinking that the Egyptians wouldn't shoot their arrows in fear of hurting such a sacred animal. Guess what? Persians were right and according to Heredotus, while 50,000 Egyptian soldiers died that day, the number of Persian soldiers died was only 7,000.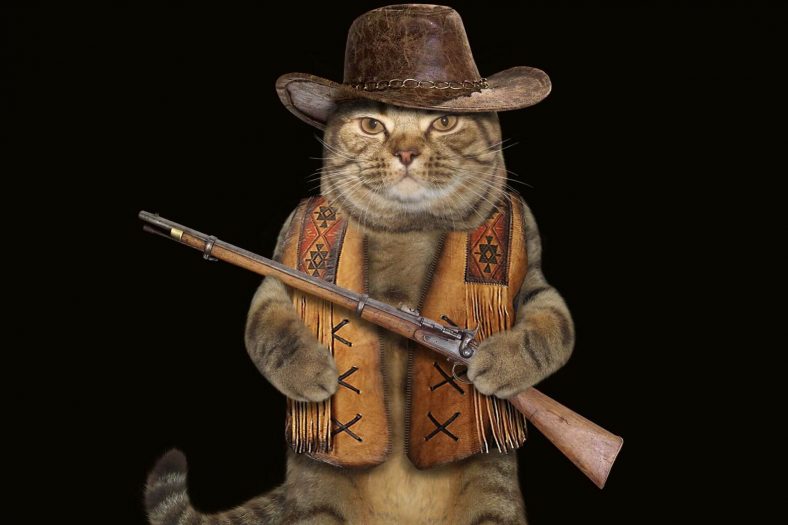 In many wars including the WWI and the WWII cats were the source of morale in the trenches and people even tried to use them as assassins and saboteurs (often, this did not end up well for them). In my opinion using an animal in war is just brutal and unforgiveable but we are human, we use whatever serves us and don't think about anything else. Other lives don't even matter to us. Unfortunately, this is the ugly truth.
However, using animals in wars and causing their deaths is not the same thing as giving them weapon names. Since weapon names for cats don't have to be real weapons, I included some fictional weapons to the list. The categories for weapon names for cats are as follows:
Fictional and Real Manufacturer and Weapon Names For Cats
Weapon Parts, Accessories & Terms
Names of Fictional and Historical Marksman
"Occupations" That Use Weapons
Let's see if we can find the perfect name for your new feline friend.
Fictional and Real Manufacturer and Weapon Names For Cats
Here I picked some real weapon models, manufacturers and fictional weapons such as "Sting" from the Lord of the Rings or "Bat'leth" from Star Trek. It doesn't matter if your kitty has a calm or aggressive personality, you may find a name that fits.
Garand
Mortar
Grenade
Infidel
Armory
Winchester
Colt
Springfield
Rapier
Katana
Ballista
Smith
Savage
Taser
AK
Scythe
Mjolnir
Lyle
Machete
Axe
Bat'leth
Phaser
Desert Eagle
Diplomat
Remington
Arc Gun
Bullwhip
Flare
Beretta
Crossbow
Shotgun
Powerhead
Needle
Glock
SAM
Blackhawk
Carbine
Bolt
Catling
Wesson
Javelin
Arrow
Rhino
Noisy Cricket
Howitzer
Sauer
Browning
Glaive
Falconet
Revolver
Derringer
Panther
Longclaw
Mini Nuke
Pike
Tomahawk
Marlin
Bomber
Nerf
Lance
Uzi
Sniper
Bushmaster
Sting
Arbalest
Ruger
Cannon
Mameluke
Shuriken
Arquebus
Sturm
Heckler
Stag
Knuckles
Navy
Sig
Lightsaber
Rifle
Pistol
Chakram
Nornfang
Mace
Batarang
Iceman
Magnum
Koch
Seraphim
Musket
Vulcan
Wildcat
Weapon Parts, Accessories & Terms
When I started thinking about this post, names of some weapon parts and accessories seemed like really good cat names so I decided to add them to the list of weapon names for cats. Also, there are some weapon related terms that seemed like good cat names.
Rib
PB
Ballistic
Ricochet
Big Bore
Baffle
Chamber
Birdshot
Recoil
Hangfire
Point Blank
Jacket
Wad
Lock
Swage
Gauge
Reload
Half-cock
Stock
Wadcutter
Spitzer
Magazine
Maggie
Hammer
Pellet
Plink
BB
Headshot
Projectile
Shell
Powder
Rimfire
Caliber
Gunpowder
Scope
Dum-Dum
Cartridge
Clip
Case
Pump
Barrel
Sight
Bayonet
Matchlock
Round
Buckshot
Boat Tail
Slug
Holster
Misfire
Brass
Mound
Spring
Ammo
Damascus
Pivot
Submachine
Trajectory
Flask
Ramrod
Pew Pew
Tripod
Sear
Red Dot
Flintlock
Bullet
Safety
Slide
Silencer
Plug
Charon
Blank
Hollowpoint
Pin
Strut
Hollow
Laser
Muzzle
Grip
Trigger
Names of Fictional and Historical Marksman
What is a list of weapon names for cats without a few famous gunslingers or comic book characters who doesn't miss their targets? I admit that some of these people are just murderers but your cat will not become a murderer just because you named it after a long gone wild west outlaw. I mean, what is wrong with naming a kitty "Billy the Cat"?
Deathstroke
Django
Halo
James or Bond
Costello
Wyatt Earp
Clyde
Master Chief
Harley Quinn
Hardin
Riggs
Domino
Ringo
Han Solo
Marshal
Wild Bill
Deadshot
Al Capone
Gunsmoke
Furiosa
Jules
Harmonica
Billy the Cat
Judge or Dredd
King Fisher
Tom Horn
Bullseye
Butch or Cassidy
Dirty Harry
Bonnie
Hawkeye
Punisher
Ben Thompson
Clay or Allison
Ripley
Vasily Zaytsev
"Occupations" That Use Weapons
These are the people who use weapons whether it may be a gun or a fighter jet except for "Decoy" which is just too good as a cat name to leave out. Be careful though! You don't want to show your intentions with the cats name if you are planning on training a cat "Assassin"…
Flyer
Marine
Marine
Sniper
Soldier
Triggerman
Fighter
Scout
Ace
Ranger
Tracker
Bandit
Gunman
Decoy
Outlaw
Gunslinger
Marksman
Veteran
Assassin
Private Paws
Hotshot
Yakuza
Hunter
Mobster
Wingcat
Sheriff
Sergeant
Shooter
Gangster
Marshall