If you got a cat this winter and saved it from the cruel cold out there, congratulations! Now it is time to research some winter cat names for your new friend.
It is time for some cool winter cat names. Winter might sound and feel romantic for a lot of people and it is but for many others it is a time of need. Just like the homeless people out there, cats and kittens are suffering from cold. You may not be able to provide a place to stay for homeless people but you can at least adopt a kitten and save it from the cold.
To make finding the perfect name for your little friend a little easier, I divided the names into three categories:
Female Winter Cat Names
Male Winter Cat Names
Gender-Neutral Winter Cat Names
If you can't find the name you are looking for in the gender specific categories, I am confident that you will find it in gender-neutral winter cat names. Also, you may be looking for a new years cat name. If so, don't worry, we have a lot of them here.
Before you begin reading the list, you may want to have something to note the names you like because there will be more than one name you will like. Noting them and checking all the names you like after you are finished with the list gives you the opportunity to see all of them in one place and pick a favorite.
Also if more than one person will decide the name, comparing your notes to see if there is any of the same name in all lists can help picking a name everybody likes.
Without further ado, the list of winter cat names!
Female Winter Cat Names
The first item of winter inspired names for cats is female cat names. The list includes names from many languages, mythological characters and Christmas related names, etc. The theme might be cold but a cat with one of these names will surely be a loving one.
Alba
Demi
Crystal
Elsa
Gwenyth
Carol
Apricity
Nieve
Cherith
Lily
Xuĕ
Flykra
Neus
Icylyn
Kheimon
Eirlys
Haunani
Guinevere
Viola
Paloma
Rosemary
Bella
Gwyneira
Aster
Daphne
Estelle
Neve
Mary
Haukea
Miyuki
Rin
Ivy
Janara
Eira
Morana
Pyry
Clementine
Merry
Clara
Angel
Lucia
Candy Cane
Natalie
Yukina
Eve
Ember
Nevis
Christina
Holly
Noelle
Skadi
Blanche
Bethany
Stella
Natalia
Delwyn
Hellebore
Demetria
Olwen
Natasha
Gwyn
Epiphany
Edurne
Anna
Blanca
Tengliu
Shira
Kuraokami
Nivia
Bianca
Male Winter Cat Names
Just like female winter cat names, this list also includes winter names for cats from many languages and cultures all around the world. But it also includes popular characters from animations, cartoons, mythological characters, snow cat names, etc. If you like the sound of a specific name, just search it on the internet. You may like it even more.
Rudolph
Heikki Lunta
Garland
Jasper
Noel
Fezziwig
Bylur
Ned Stark
Boreas
Jay
Alpine
Ded Moroz
Lixue
Lokul Frosti
Edur
Frost
Scrooge
Eirwen
Nas
Ebenezer
Slick
Hemant
Santa
Aubin
Poli'ahu
Branch
Morozoko
Claus
Olaf
Khuno
Kar
Eryi
Zane
Jökull
Gabby
Santos
Snoopy
Boris
Fox
Ginger
Christian
Robin
Froid
Blanc
Quilo
Joseph
Tushar
Ullr
Yukio
Cole
Sid
Balthazar
Izotz
Gabriel
Frediano
Jack Frost
Scrat
Whittaker
Buddy
Snowman
Clark
Glover
Bodhi
Tuhin
Albus
Douglas
Dong
Warrin
Nicholas
Skellington
Gender-Neutral Winter Cat Names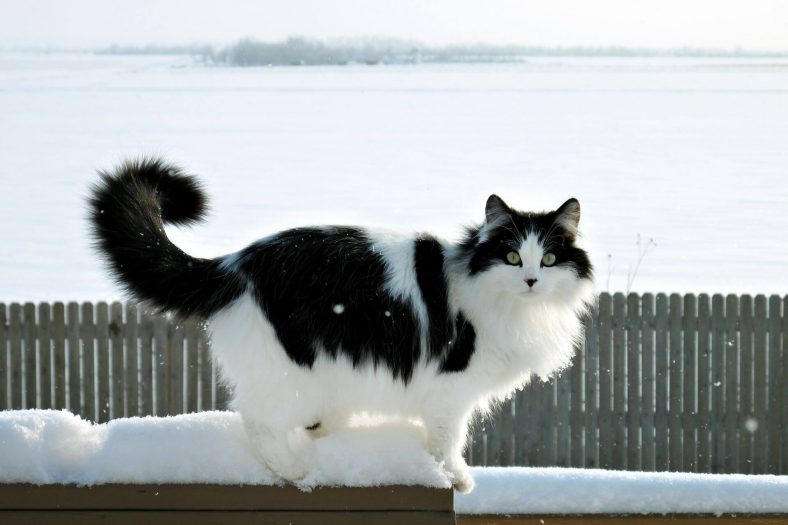 Some of the most amazing winter names for cats are here. No matter what the gender or character of your cat is, there is a name in this list that will match it perfectly. If you were unable to find the name you like best until now, you can be sure that it is among the names below.
Iceberg
Fuyu
Crimson
Sleigh
Icicle
Yeti
Fjolla
Eggnog
Vail
Elf
Snowy
Cloudy
Frosty
Sleet
Antler
Avalanche
Mittens
December
Soup
Nutmeg
Bear
Narnia
Isbert
Snow
Aspen
Snowflake
Cortina
Hail
Puck
Zamboni
Neiger
Nutcracker
Alaska
Sparkle
Chilly
Polar
Yuki
Neva
Whit
Hockey
Colden
Flurry
Spruce
Ice
Igloo
Cypress
Lasta
Cranberry
Fionn
Blizzard
Isa
Drift
Solstice
Garnet
Glitter
Nevada
Caecius
Glacier
Blaze
Pine
Stocking
Festive
Chill
Sneg
Crispin
Juniper
Balsam
Snowshoe
Husky
Sētō
Icelynn
North
Icy
Storm
January
Cuddly
Himesh
Jāḍō
Marshmallow
Pothole
Frost
Winterberry
Vetle
Arctic
Lumi
Zima
Pudding
Penguin
Parka
Winter
Sugarplum
Fannar
Mistletoe
Snieg
Winoc
Flake
Stormy
Everest
Dove
Andri
Yule
Darke
Urmas
Luge
Chestnut
Beanie
Fingal
Wren
Sparrow
Boots
Laurel
Peppermint
Frostine
Chan
Cocoa
Toboggan
Conven
Wyn
Moose
Snowball